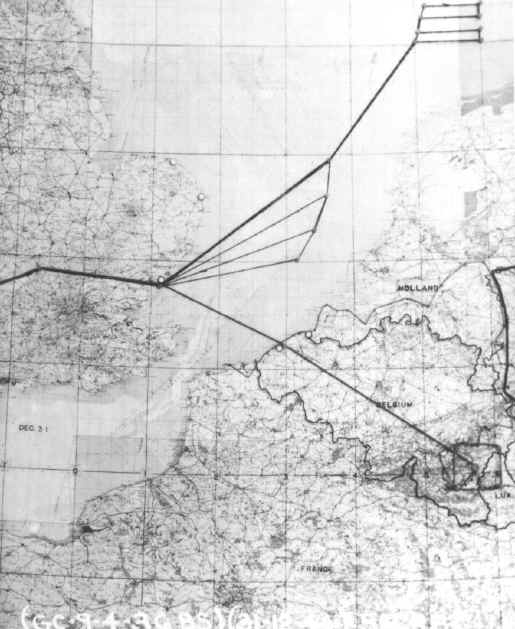 Jamming mission plot of Dec. 31, 1944 during the Battle of the Bulge.
JACKAL
Another new squadron jamming operation undertaken during December 1944 was one that directly supported the American ground forces. The gremlin equipment used for these operations was nicknamed JACKAL (AN/ART-3). This equipment was designed for jamming German tank communications. The first JACKAL missions were undertaken on 28 and 31 December during the Battle of the Bulge. The air route to the battle area tracked to southern Belgium where three B24 Liberators were dispatched for the JACKAL operation.
Next during the January 2nd and 7th missions two or three 36BS Liberators equipped with JACKAL equipment and one B24 equipped with Ferret or search receiver equipment along with a German speaking operator were dispatched. On the 7 January mission a considerable amount of enemy R/T traffic was monitored. A special operator who flew with the Ferret ship logged several German transmissions during the time JACKAL was operating which indicated that the enemy ground stations were unable to understand each other during this same period. A study of the special operators log indicated that the jamming equipment disrupted the enemy's tank communication system to a considerable degree. It was also significant that before JACKAL was operated the enemy experienced no difficulties with its inter-communications. It was therefore concluded that JACKAL accomplished its purpose successfully. The special operators used on these missions were Lt. Morris Burakoff and T/Sgt. Ernest Asseln.