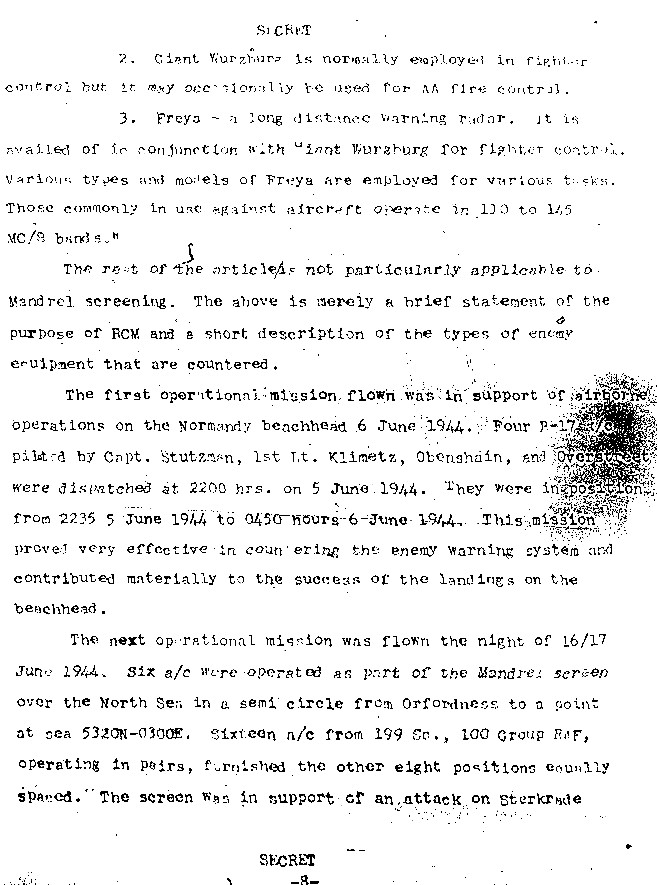 SECRET Frame #1797 document on 803BS contribution on D-Day.
More Images- Click on each to Enlarge
| | |
| --- | --- |
| | |
| Congratulation from AVM Addison to Lt. Col. Scott, CO of the 803BS | RAF Oulton Group Capt. Dickens congratulations to the 803BS on the success of their D-Day mission. |
D-DAY
RAF Bomber Command planned to support D-Day -- Operation Overlord by the use of radar countermeasures. RCM operations would also be carried out by the British Royal Navy. The RAF RCM operations would involve the RAF 100 Group which included the 803rd Bomb Squadron. On 30 May a requirement was placed upon the 803BS to support the RAF in the upcoming invasion by providing MANDREL cover. Its airborne MANDREL transmitters would target a whole range of enemy coastal early warning frequencies. This was known as barrage jamming. The MANDREL barrage jamming by design would form a screen behind which Allied aircraft could operate unseen. The MANDREL transmitters radiated noise, thus obscuring the attacking Allied formations. This electronic curtain completely blocked the probing beams of the enemy radars such as the Freyas, causing their control monitors to illustrate nothing but a deluge of "snow".
Because of new long range German radar installations located on the westerly tip of the Cherbourg Peninsula, plus a number of coast watchers in the Channel Islands area, twenty MANDREL equipped aircraft were necessary for the barrage jamming operations. Sixteen Short Stirling bomber aircraft of RAF 100 Group's 199 Squadron would be deployed in positions 1-8 along with four B17's from the 8AF's 803rd Bomb Squadron in positions 9-12, orbiting specific latitude/longitude positions. All of the jamming aircraft were to conduct their special operations for 5 1/4 hours.
Both RCM squadrons, RAF 199 Squadron and the 803rd Bomb Squadron, saw no fighters and suffered no casualties.